WHY EXHIBIT AT THE DECORATIVE FAIR?
The Decorative Antiques & Textiles Fair has a vibrant air and buoyancy unlike any other in the UK, driven in part by the number of trade buyers in attendance, both interior designers and antiques retailers, UK and international. With its relaxed and friendly atmosphere, the Fair attracts many younger private buyers alongside a well-heeled audience with multiple homes. As a Fair organized by dealers, we are mindful of the needs of the trade, and aim to make exhibiting as straight-forward and happy an experience as possible.
More than half our sales are made to young people aged between 25 and 40… [which] gives the lie to the traditionally held view that young people do not buy antiques. Certainly at the Decorative Fair they buy from us.
Brian Watson Antique Glass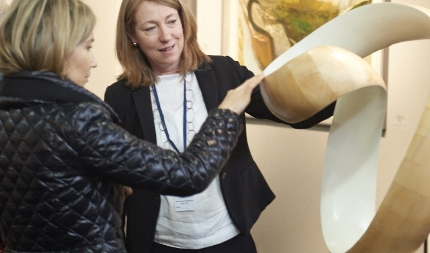 Three events each year
With a Winter Fair in January, a Spring Fair in mid-May and an Autumn event coinciding with the busy design season in late September/early October, there is ample opportunity to develop relationships with regular buyers.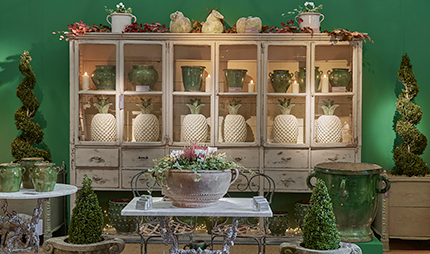 Stand out
Exhibitors are encouraged to dress their stands with imagination and flair to provide inspiration to visitors. This unique aspect to the Fair has made us the go-to antiques source for a high number of interior design trade visitors, many of whom attend every event.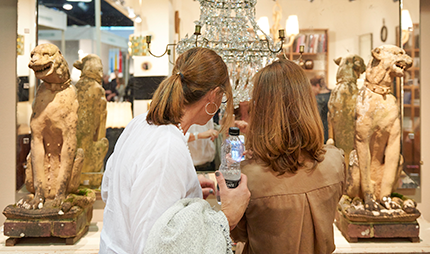 High calibre clients
Alongside trade buyers, the Fair attracts a wide range of attendees of all ages. Celebrities are often spotted shopping with us, some come with their interior decorators. We run high profile marketing campaigns, from glossy advertising to social media, and have an enviable visitor database.
I was interested by the mix of new and old and the chance to see quirky items that provide a "twist" to completing a contemporary decoration project.
WHO CAN EXHIBIT?
Firmly established businesses selling high quality stock that fulfils our Vetting Standards Criteria, and whose look compliments the Fair. We ask for two references, one of which must be from a dealer known to the Fair.
STEP 1
Let us know which fair/s you're interested in as well as if you'd like to sell on our online marketplace.
STEP 2
If you meet our exhibiting criteria we'll invite you to complete an application.
STEP 3
Our selection committee will review your application to ensure suitability and fit with our existing exhibitors.
STEP 4
If your application is successful, our team will work closely with you to ensure a smooth experience.
ENQUIRE HERE
Please complete the form below and we will get in touch.